80mm Kingspan Styrozone H350R Flat Roof XPS Board (pack of 5)
80mm Kingspan Styrozone H350R Flat Roof XPS Board (pack of 5)
Thermal Conductivity: 0.029W/mK
Compressive Strength: 300kPa
Water vapour resistivity: 825MN.s/g.m
Kingspan Styrozone H350R Flat Roof XPS Board is highly effective rigid insulation board made from extruded polystyrene core covered with smooth skin on both sides. It is especially designed for protected membrane flat roofs, but is also used in green roofs as a popular alternative to traditional roofing systems, whereas its high comprehensive strength makes it ideal for inverted roofing. It is manufactured using 0 ODP and low GWP blowing agents, which also makes it highly environmentally friendly. Unlike fibre insulation materials which can be sensitive to water vapour, Styrozone H 350 R has a closed cell structure, which makes it not only water vapour and moisture resistant but also unaffected by air filtration, thus upgrading the thermal performance of the entire construction. It is most commonly used as a part of the protected membrane roofing systems, with a paving slab or a gravel finish or as a part of green roof systems. It is very easy to install and requires no maintenance, allowing additional insulation to be added later on, so what you will get is a roofing system protected from UV degradation, mechanical damage, and condensation.

Kingspan Styrozone H350R Flat Roof XPS Board is designed for protected membrane roofing systems and green roofs. It is suitable for use single-ply and mastic asphalt waterproofing membranes and also some cold and hot liquid applied waterproofing systems.
Highly water and moisture resistant,

E

asy to cut and install,

E

specially designed for inverted roof systems and green roofs,

H

igh compressive strength,

0 ODP and low GWP potential,

L

ow thermal conductivity,

N

ondeleterious material,

R

esistant to most dilute acids and alkalis.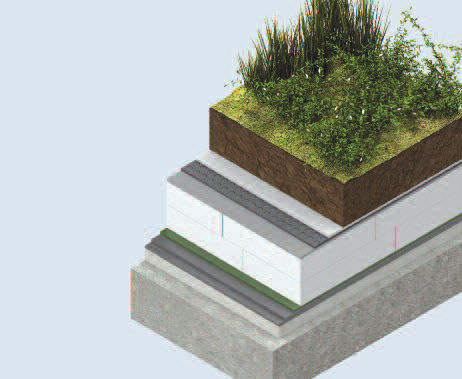 Kingspan Styrozone H 350 R boards can be installed only if the waterproofing system has been properly installed and the roof surface is clean. If you have opted for a single-ply or mastic asphalt waterproofing system, lay a non-woven polyester separation layer on top of the waterproofing system, with 250mmto 300 mm overlaps.

The boards should be installed starting from the roof access point. They need to be laid either diagonally or with their long edges positioned at right angles to the edge, making sure that there are no gaps at abutments. In case you need to install more than one layer of insulation, make sure that the board joints do not coincide in any two adjacent layers. Horizontal roof insulation bottom and insulation upstand top should be kept at a minimal distance of 300mm.

The insulation boards should be covered with a non-woven polyethylene membrane which needs to be turned up at the insulation edge and properly sealed under the flashing. In order of providing adequate protection to the membrane, try to install the ballast layer as soon as possible, which needs to have minimum depth of 50mm and nominal 20-40mm diameter, properly washed and rounded prior to installation.
In case you have opted for paving slab ballast, it should be minimum 50mm thick and installed over the non-woven polyethylene membrane, laid on minimum 175 mm diameter slabs, in order of ensuring drainage is maintained below the slabs and that the excessive moisture can escape. Use nominal 20-40mm diameter rounded gravel to fill the gaps between upstand and the paving slabs.
Kingspan Styrozone H350R Flat Roof Insulation Board is manufactured to the highest standards under a management system certified to:
BS EN ISO 9001: 2000,

S

atisfies the requirements set out in the Control of Substances Hazardous to Health Regulations, 1988 (COSHH),

H

as FAA rating in accordance with BS 4763: