100mm Isover Acoustic Multi-Purpose Slab (pack of 8)
100mm Isover Acoustic Multi-Purpose Slab (pack of 8)
Thermal Conductivity: 0.036W/mK
Fire Rating (Reaction to Fire): A1(Non-combustible)
100mm Isover Acoustic Multi-Purpose Slab is a glass mineral wool slab providing high levels of acoustic and thermal performance in wall-lining systems, partitions and modular building applications.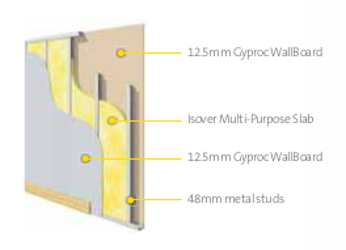 Wall lining systems
Partitions and other building structures
Provides high levels of acoustic performance.
Excellent thermal performance.
Fire safe totally non-combustible material properties.
Long product life material will not age.
Easy to handle, cut and install.
Fully compatible with all standard building materials and components.
Excellent environmental credentials.
Fully tested and approved for use with British Gypsum drywall systems covered by the SpecSure Lifetime Performance Warranty.
British Standards Institution: BS EN ISO 9001:2000. Manufactured under BSI Quality Management. Certificate Number FM 01032.
British Standards Institution: ISO 14001:2004.