12.5mm British Gypsum Glasroc X Sheathing Board - 1200mm x 2400mm
12.5mm British Gypsum Glasroc X Sheathing Board - 1200mm x 2400mm
Thermal Conductivity: 0.186W/mK
Fire Rating (Reaction to Fire): A1(Non-combustible)
12.5mm Glasroc X Sheathing Board is a high performance sheathing board that gives BBA certified 6 months weather protection. These boards are used to provide temporary weather protection for structural frame steel constructions, where the facade cladding system is fixed through it into the steel stud. It has high fire and moisture resistance.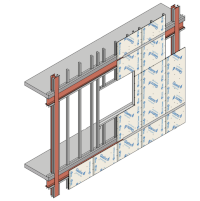 External wall sheathing for steel frame construction
Easy to cut, fix, handle and install,


Doesn't require specialist cutting tools or dust extraction equipment,

Lightweight,

Dimensionally stable,

Maintains weather protection,

Air tightness performance,

Resistant to mould.
Certified to BES 6001 Responsible Sourcing achieving a rating of "Good"

Complies with EN 15283-1