9mm Euroform Rendaboard - Render Carrier Board
9mm Euroform Rendaboard - Render Carrier Board
Fire Rating (Reaction to Fire): Class 0
9mm Versa Rendaboard is a solid, direct render base board with textured face to one side compatible with a vast number of polymeric coating systems. It is made from a mixture of inorganic materials, glass fibre, wood fibre and non-woven cloths, giving it a unique structure. It does not contain asbestos, formaldehyde or hazardous volatiles. Rendaboard highly durable and is Class 0 fire rated.
Renovation,

New build,

Timber frame structures,

Steel frame structures,

Sheathing boards,

Infill panels,

Carrier panels,

Backer panels



Highly economical,
Easy to install and versatile - can be screwed, stapled, nailed or bonded,
Suitable for timber and steel frame systems,
Fire rated and non-toxic under fire,
Impact, vermin and rot resistant,
Great dimensional stability,

Soundproof,

Delivered in plastic, edge protected pallets.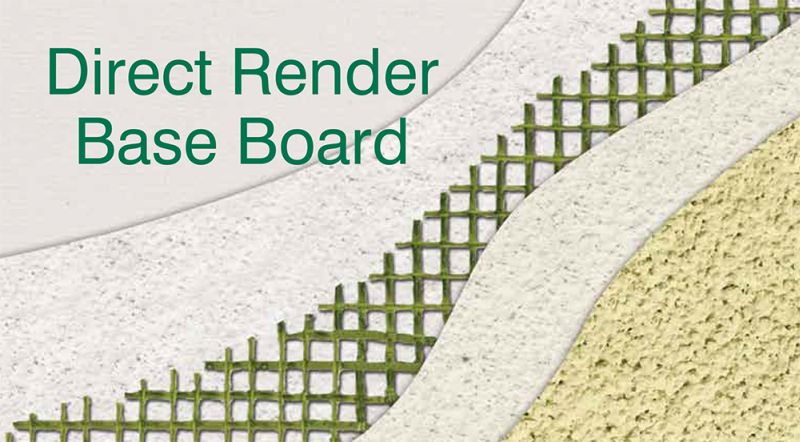 The boards should lay flat and properly covered with waterproof sheeting, Transport loose boards in vertical position, They should be acclimatised approximately for 24 to 48 hours prior to application and also to be kept dry before adding the render coating. Brick bond pattern should be used fixing. Avoid 4 way joints, Use stainless steel self-countersinking and self-drilling screw fixings, Fixings should be placed at 200mm centres at the perimeter of the board and 300mm centres on intermediate support, Expansion joints should be 4mm in single frame assembly and 10mm at the joint of two frame assemblies.
Not classified as hazardous;
In compliance with the general requirement of Section 6 of The Health & Safety at Work etc, Act of 1974;
Tested in accordance with The Chemicals (Hazard Information and Packaging for Supply) Regulations 2002 (CHIP 3) The Approved Code of Practice, Compilation of safety data sheets, (Third Edition) Occupational Exposure Limits 2002 (EH40/2002).

Versa Rendaboard Technical Brochure
Substitute Products
This product is listed in the following categories and systems (click to show).
This product is listed in the following categories and systems (click to hide).