Acoustic and Intumescent Mastic Sealant
Fire Rating (Reaction to Fire): Class F
Acoustic and Intumescent Mastic is a sealing and fire stopping product intended for penetration services and linear joint and gap seals. It is produced from acrylic emulsion mineral fillers of high density. The product is classified as non-hazardous and non-toxic, chemically stable and it is not reactive with other substances.
The mastic can be stored on work site for a short time period, held in unopened containers clear of the ground, in operating temperature between 40º and 50º.
Acoustic and Intumescent Mastic Sealant is used as acoustic and fire seal between wood, concrete, brickwork and blockwork, in exterior or interior applications.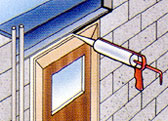 non-hazardous;
non-toxic;
non-flammable;
chemically stable and not reactive with other substances.
Complies with BS-EN 1366-4;
Class F According to the requirements of EN13501-1;
Tested in accordance with BS-EN1366-4 / BS-EN 1366-3 / BS476-20 / BS476-22 / Certifire CF 578
In accordance with section B.2.1.2 of BSEN 1366>4: 2006;
In accordance to the requirement of BS-EN 1366-4