72.5mm Xtratherm Safe-R Thermal Liner SR/TB-MF (60mm Phenolic Core + 12.5mm Plasterboard) - Mechanical Fixing (pack of 5)
72.5mm Xtratherm Safe-R Thermal Liner SR/TB-MF (60mm Phenolic Core + 12.5mm Plasterboard) - Mechanical Fixing (pack of 5)
Thermal Conductivity: 0.020W/mK
Compressive Strength: 125kPa
72.5mm Xtratherm Safe-R Thermal Liner SR/TB-MF is a composite insulated panel of Xtratherm 60mm Phenolic core with a composite tissue facing bonded to a 12.5mm tapered edge plasterboard for internal applications, mechanically fixed. Xtratherm Safe-R Thermal Liner SR/TB-MF is designed to provide high levels of thermal insulation and dry lining in one operation for masonry walls. The Safe-R Thermal Liner SR/TB-MF board achieves a resistance greater than 100 MN.s/g. Improved vapour resistivity when required, can be provided with two coats of Drywall Sealer. Safe-R Thermal Liner SR/TB-MF is faced with low emissivity aluminium/glass tissue facings, and has a thermal conductivity as low as 0.020W/mK.
Note: The plasterboard can be square edge, 9.5mm thick, fire or moisture resistant or soundproof, can be priced on request.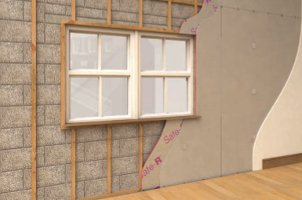 Superior performance phenolic foam,

Thermal conductivity as low as 0.020 W/mK,

Effective thermal and fire performance,
Achieves a resistance greater than 100 MN.s/g,


Can be readily cut using a sharp knife or fine toothed saw,

Low smoke obscuration,

Low risk fire rating - Class 0,

HCFC/CFC Free,

Zero ODP,

Rot proof and will remain effective for the life span of the building,
Internal wall drylining f

or new build or refurbishment
Fix a pre-treated timber batten horizontally at ceiling level and another 20mm above the finished floor level.
Fix vertical battens at max 600mm centres.
Ensure battens are wide enough to offer 20mm support to all four edges of the plasterboard.
Pack battens if necessary to level the wall.
Trim all openings and service penetrations with timber battens.
Insulation should be cut back to accommodate an adjoining panel at external corners.
Lift the SR/TB-MF Thermal Liner into position using wedges on the floor.
Screws should be fixed to the timber batten at 150mm centres, at least 12mm in from the board edge.
The fixings should penetrate at least 25mm into the batten.
Installation must be in accordance BS 8212:1988.
Fill any gaps with foam filler.

Xtratherm Safe-R SR/TB is manufactured to EN ISO 13166 under Quality Systems approved to EN ISO 9001:2008 Quality Management, EN ISO 14001:2004 Environmental Management and
BS OHSAS 18001 Health and Safety Management System.